Gleiberman Head and Neck Cancer Center
Thanks to the generous support of Hanna and Mark Gleiberman, the Hanna and Mark Gleiberman Head and Neck Cancer Center, housed within Moores Cancer Center at UC San Diego Health, pursues innovative clinical trials and advances leading-edge research to ensure our health care teams can offer patients world-class compassionate care in a supportive environment.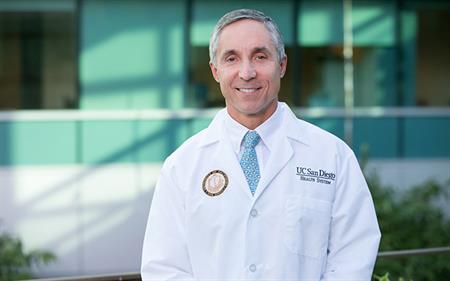 Message from the Director
At the Hanna and Mark Gleiberman Head and Neck Cancer Center, our dedicated physician-scientists apply their skills and expertise to innovative exploration, improving care and redefining how we understand and treat head and neck cancer. And thanks to the support of generous and forward-looking partners, we have been able to grow our program even further.
Statistics
#1
UC San Diego Health was named the best hospital in San Diego and no. 5 in the state (U.S. News & World Report)
All A's for Safety
Leapfrog Group awarded UC San Diego Health double-A ratings for providing demonstrably safer patient care
World-class Care
Moores Cancer Center is the region's only NCI-designated Comprehensive Cancer Center — the highest recognition available
Featured Stories
Hanna and Mark Gleiberman Make Gift of $12 Million to UC San Diego
Two years ago, San Diego-native Hanna Gleiberman walked into her doctor's office with a sore in her mouth. She walked out with a diagnosis of an advanced, life-threatening form of tongue cancer.
Silent No More: Woman Lends Voice to Hope after Cancer
In 2017, Cynthia Zamora bit her tongue while sleeping, splitting her tongue nearly in half. She was referred to a specialist, who found a 5.4-centimeter tumor that enveloped more than half of her tongue.
Giving
Generous support from friends like you empowers our physician-scientists to pursue groundbreaking research, compassionate patient-centered care, and leading-edge training for the next generation of head and neck cancer experts.
We invite you to join us with a gift of any size today. Help us transform head and neck cancer care now and long into the future.
To learn more about how you can make an impact, email us at deliveringdiscoveries@ucsd.edu.