Pilot Grant Projects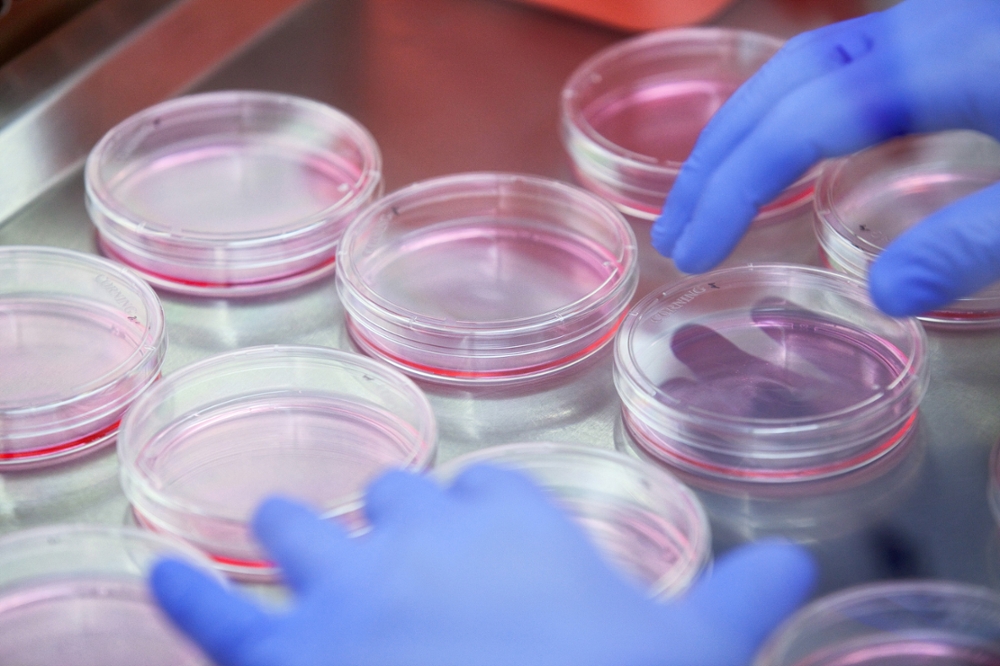 Our physician-scientists and researchers are involved in many exciting studies, and the Hanna and Mark Gleiberman Head and Neck Cancer Center awards annual grants to projects that will ultimately improve curative treatment as well as the quality of care for patients and their families.
Learn more about pilot grant recipients below. 
Evaluating the Prevalence and Progression of Cancer Cachexia in Patients Receiving Curative Intent Therapy for Locally Advanced Head and Neck Cancer 
Assuntina Sacco, MD
Cachexia is a progressive wasting condition that may be observed in cancer patients. It is a form of malnutrition that has multiple negative effects on survival, functional outcomes and quality of life. While weight loss is often used to diagnose this condition, there are important variables that are not consistently measured, potentially leading to under-diagnosis of this illness and inability to fully capture its impact. It is especially important that patients with cachexia are diagnosed timely as cachexia can progress to a point where it is no longer responsive to nutritional interventions. The goal of this study is to examine the number of patients with head and neck cancer (HNC) who exhibit cachexia at diagnosis, and follow the progression of this condition throughout their treatment and recovery. Assessments will include fatigue, decreased appetite, skeletal muscle loss, strength, and altered laboratory values. Fifty HNC patients receiving curative cancer treatment will be asked to participate. Before treatment begins, these patients will be evaluated for the presence of cachexia based on previously published measures: body composition, muscle strength, bloodwork for laboratory markers of cachexia and a quality of life questionnaire. These assessments will be repeated at 1, 3, 6, and 12 months after. All patients in the study will be closely followed by a registered dietitian, as is standard practice during cancer treatment. The results of this study will allow researchers to develop strategies to address cancer cachexia early, and prevent or reduce its negative impacts, resulting in more favorable outcomes.
Combining Anti-CD40 Antibody with Checkpoint Blockade and Radiation to Improve B-cell Immune Responses in Head and Neck Cancer
Andrew Sharabi, MD
Perhaps the most exciting avenue in cancer therapeutics is harnessing the immune system to promote tumor recognition and treatment response. In head and neck cancer (HNC), there have been limited advancements in the use of immunotherapy with modest response to checkpoint blockade inhibitors (CBI). Despite our eagerness to utilize immunotherapy in this heterogeneous population, there is limited knowledge of the immune response garnered by our combined therapies. There are, however, promising new agents on the horizon that warrant attention, one of which includes anti-CD40 antibody. In preclinical data, anti-CD40 antibodies have demonstrated a promising capacity to activate B-cells and other antigen presenting cells with early clinical studies showing enhanced tumor response in pancreatic cancer and hematologic malignancies. Additionally, there are several ongoing trials seeking to exploit the non-redundant pathways of anti-CD40 antibody and CBI in other primary sites. To date, however, there have been limited pre-clinical studies and no ongoing trials evaluating anti-CD40 antibody in HNC. 
We hypothesize that anti-CD40 antibody combined with radiotherapy will enhance B-cell activation and differentiation resulting in enhanced tumor response in HNC. We then aim to show that adding CBI to this regimen represents a nonredundant pathway of immune augmentation to further strengthen tumor response and reduce metastatic potential. Ultimately, these findings serve to augment our understanding of B-cell populations following exposure to radiotherapy and non-redundant immunotherapeutic regimens. Of critical interest is the impact of these regimens on tumor response across multiple cell lines of HNSCC in order to predict response and guide future clinical trials.
Past recipients of the grant include:
Dysphagia home exercise program adherence and functional outcomes in patients with head and neck cancer: Comparing traditional and mobile device-based delivery models
Liza Blumenfeld, MA, CCC-SLP, BCS-S
Patients with cancer of the mouth, throat, and voice box commonly have trouble swallowing because of their tumor and its treatment. For these patients, Speech pathologists help improve swallow function using personalized home swallowing exercises. To get the best possible outcome, patients must exercise every day. Like all exercise, it can be challenging to maintain the routine. Patients tell doctors and speech pathologists how much they are exercising, but we don't know how well this reporting corresponds with actual exercise time. Also, we don't know how the swallow function will improve for varying amounts of exercise time. Some research has shown that patients are more-likely to follow their swallowing exercise regimen if they have help from a mobile application (app). We propose a clinical study to compare behavior and swallowing outcomes between a normal swallowing exercise program and a program supported by a mobile app.
Pilot study of using home based-sensors to assess patient reported outcomes among minority head and neck cancer patients 
James Murphy, MD
The timely assessment of patient reported outcomes (PROs) represents a key component in caring for cancer patients. The definition of PRO includes any report of a patient's health status coming directly from the patient including physical symptoms of disease, complications of treatment, and overall psychological well-being. Clinical trials have found that early assessment of PROs can reduce patient symptoms, improve quality of life, and even extend survival. Unfortunately, we lack systems in current practice that routinely capture PROs for the majority of patients with cancer. This inability to assess PROs particularly impacts minority patients – who can suffer from language barriers, cultural differences, and health literacy issues.
This current study proposes to deploy the CYCORE (CYberinfrastructure for COmparative effectiveness REsearch) system among an ethnically diverse group of head and neck cancer patients receiving radiation. The morbidity of head and neck cancer coupled to the high symptom burden of treatment creates a profound unmet need in this patient population. The novel CYCORE system allows patients to enter PROs on a phone or tablet at home, and have their blood pressure, pulse, and weight assessed with wireless devices. This home-based patient information will flow instantly and securely into the CYCORE network. Healthcare providers will have the ability to continuously monitor their patients, and can intervene early to prevent adverse events. If this pilot study proves feasible we plan a large-scale rollout of the CYCORE system among patients with head and neck cancer with the ultimate goal of improving patient quality of life. 
Temporal Analysis of Metabolome in Head and Neck Cancer Patients Undergoing Treatment
Andrew Sharabi, MD
Radiation therapy has been used to successfully treat cancer for decades, and it remains one of the main pillars of cancer therapy. Radiation therapy works by delivering high doses of energy with pinpoint precision to kill cancer cells, and recent technological advancements have made it possible to deliver radiation therapy with millimeter accuracy while minimizing damage to surrounding tissues. However, patients undergoing radiation therapy continue to experience potentially detrimental side effects that can prevent the cancer therapy from being maximally effective. For example, one of the most common side effects that patients undergoing radiation therapy for head and neck cancers is mucositis, an infection of the mucosal surfaces of the mouth, throat, and other nearby areas. One of the reasons why this may occur is because radiation therapy can alter the microbiome – the bacteria and other microorganisms that naturally occur – in areas hit with radiation. The project described here seeks to characterize the microbiome in the saliva, mouth, nose, and neck skin in patients undergoing radiation therapy to understand how it can affect a patient's recovery time, treatment plan, and risk of infection. Ultimately, armed with this information, physicians may be able to better predict and prevent infections to minimize the chance for interruptions in radiation treatment.
Generalized Competing Event (GCE) Modeling to Identify Head and Neck Cancer Patients Likely to Benefit from Treatment Intensification
Lucas Vitzhum, MD
Head and neck cancer (HNC) is a common disease that often is diagnosed after having spread to lymph nodes in the neck. These cancers are usually curable, but treatment often requires an intensive combination of chemotherapy, radiation therapy (RT) and surgery. Previous studies have found that more intensive treatment can improve survival and reduce cancer recurrence. But these intensified treatment programs come at the cost of increased short- and long-term side effects. Previous research has shown that some patients, such as the elderly, do not benefit from more aggressive treatment, because improvements in cancer control are often negated by patients' risk of dying from other non-cancer causes. Being able to predict a patient's relative risk of dying from cancer versus non-cancer causes can determine how much they would likely benefit from more aggressive treatment. Such methods of assessment could direct the use of more aggressive therapies to those most likely to benefit. Unfortunately, traditional methods of determining risk, such as staging systems, do not adequately consider the relative risk of dying from cancer versus alternative causes of mortality. Our group has developed better statistical methods to improve prediction of the relative risks for HNC patients. We are planning to use data from clinical trials, the VA hospitals, and a private health group databases to validate this theory and make the prediction model more accurate.
Novel Approaches to Inhibit Immune Suppression in Head and Neck Cancer
New immune therapies hold great promise for the treatment of cancer. However, in some tumors, proliferating macrophages drive resistance to these new therapeutics. This program, led by Judith A. Varner, PhD, and Megan M. Kaneda, PhD, will investigate a new approach to overcome macrophage-mediated resistance to immune therapy in head and neck cancer by targeting novel mechanisms that drive macrophage proliferation.
Dosimetric and Functional Implications of Submandibular Gland Transfer in Oropharyngeal Cancer Patients Treated with Definitive IMRT
Submandibular gland transfer is a surgical technique which moves a single salivary gland forward underneath the jaw and is performed prior to treatment for patients who will be receiving radiation therapy for head and neck cancer. This method of sparing a salivary gland from the effects of high dose radiation has been shown to be quite effective with conventional forms of radiotherapy, but the implications of using this technique with more modern forms of radiation therapy have not been evaluated. This trial, led by Charles Coffey, MD, with co-leaders Parag Sanghvi, MD, Vitali Moiseenko, PhD, and Liza Blumenfeld, MA-CCC-SLP, BCS-S, will examine the dosimetric effects of submandibular gland transfer in patients receiving intensity modulated radiation therapy, as well as the functional effects on such outcomes as salivary flow, dry mouth, swallowing, and quality of life for these patients.
Creating a Novel Simulation-based Education Tool to Improve Radiation Therapy Outcomes in Head and Neck Cancer
This project, led by James Murphy, MD, aims to create a novel web-based educational application that strives to improve the quality and safety of radiation delivery in head and neck cancer.
Generating a Vaccine for Head and Neck Cancers by Reprogramming Cancer Cells into Dendritic Cells
The purpose of this study, led by Jack D. Bui, MD, PhD, is to generate a vaccine that closely mimics the cancer cell so that a highly specific immune response can be induced. This high level of specificity will increase the efficacy of the immune response while also limiting any off-target toxicity.